As part of the Year of the Eucharist, the Sacred Congregation for Catholic Education saw a need for prayer for an increase in vocations to the priesthood and to the religious life and for the sanctity of priests.
Six Monstrances, one for each Continent, were blessed by His Holiness, Pope John Paul II on 24th November 2004. It was a great disappointment that the Monstrance destined for Oceania disappeared before it arrived in Australia and its whereabouts are unknown.
The response in the United States of America to this initiative was so strong that the Monstrance allocated for North America didn't cross the border to Canada. This led to a further three Monstrances (one each for Canada, Argentina and Australia) being blessed by Pope Benedict XVI on Ash Wednesday 2006.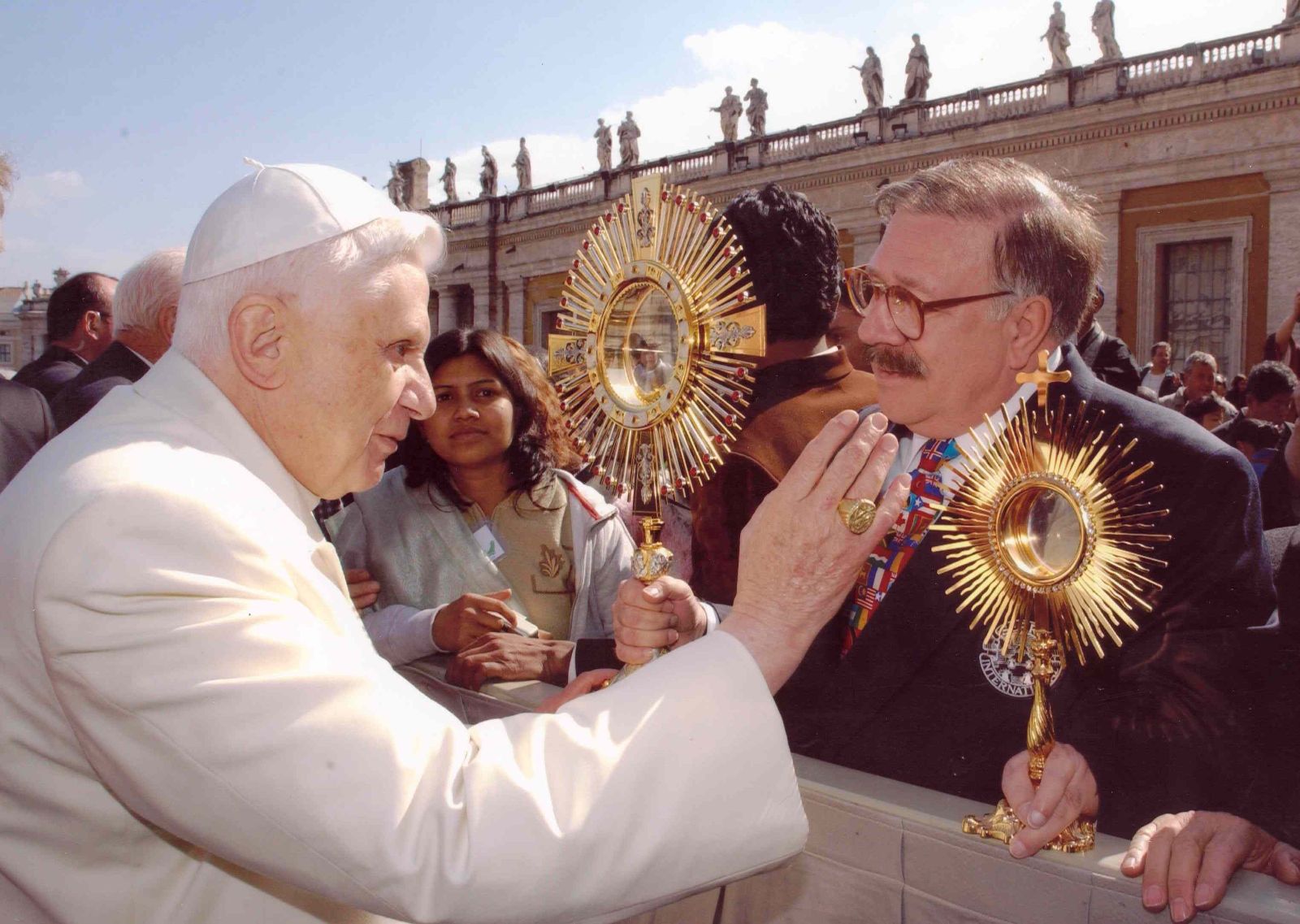 The photo shows Pope Benedict XVI blessing the Serra Monstrance for SCANZSPAC which was held by Serra International President, Denis Lieber.
A replacement Monstrance was obtained for Australia.  It was handed to the Serra Council of Australia, New Zealand and The South Pacific (SCANZSPAC) by Serra International's Chief Executive, John Woodward, on 8th April 2006. This has enabled SCANZSPAC to provide support for Eucharistic Adoration for Vocations in many areas.
To date, the Monstrance has been on pilgrimage in the Archdiocese of Melbourne, Archdiocese of Sydney, Archdiocese of Canberra and Goulburn, Diocese of Sale, Diocese of Wagga Wagga, Diocese of Broken Bay and Diocese of Armidale.
Enquiries about the Monstrance may be direct to Andrew Kennedy at apk1963@bigpond.com