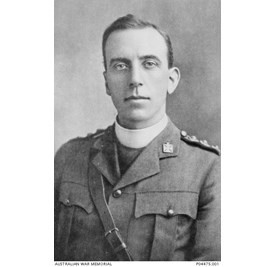 MICHAEL BERGIN (1879 – 1917)
Jesuit priest and military chaplain, Michael Bergin, was born in August 1879 in Tipperary, Ireland. The son of a mill-owner, he entered the Jesuit noviceship in September 1897 and was sent to utilise his English-speaking skills in the Syrian Mission in 1899. Returning to the Middle East in January 1914, he was placed in charge of Catholic schools near Damascus until the outbreak of the First World War. Imprisoned, along with other foreigners, and expelled by the Turkish government, he reached the French Jesuit College in Cairo in January 1915 where the first Australian troops in Egypt had arrived.
Through his experience of the Australian troops, he offered to informally assist the Catholic military chaplains in their work. Although still a civilian, he was dressed in the uniform of a private in the Australian Imperial Force (AIF) by the men of the 5th Light Horse Brigade and departed with them for Gallipoli. Sharing intimately in the hardships of the troops, he acted as priest and stretcher-bearer until his official appointment as AIF chaplain was approved on the 13th May 1915. He remained at Anzac Cove until September, when he fell ill with typhoid fever and was evacuated to Britain. He later returned to Lemnos but was pronounced unfit and subsequently confined to serving in hospitals and medical ships. He was evacuated to Alexandria in January 1916 where he continued to work in camps and hospitals in Egypt.
Re-joining the 51st Battalion in April 1916 at Tel-el-Kebir, he accompanied his men to France and served as chaplain in all their actions during the period of 1916-17. These actions included the battles of Poziers, Mouquet Farm, and Messines, and the advance on the Hindenburg Line. During the Battle of Passchendaele, on the 11th October 1917, he was killed when a heavy shell exploded near the aid post where he was presently engaged. His heroic efforts during his military service earned him a posthumous award of the Military Cross – the award citation praising his "unostentatious but magnificent zeal and courage".  Although he has never seen Australia, he was deeply admired by thousands of Australian soldiers and has been referred to as "a man made great through the complete subordination of self". He is buried in the village churchyard at Renninghelst, Belgium.
JOHN FAHEY (1883 – 1959)
Catholic priest and military chaplain, John Fahey, was born on the 3rd October 1883 in Tipperary, Ireland.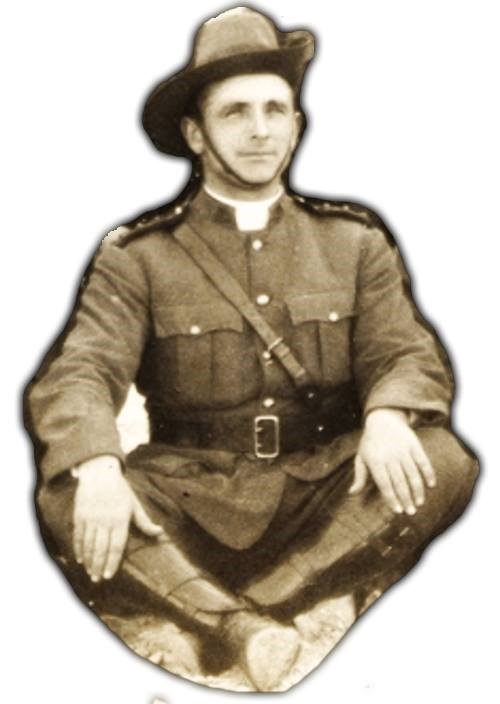 The son of a farmer, he was ordained in May 1907. Almost immediately following his ordination, he departed Ireland for Australia as a member of the Australian Mission and began his work in Perth at the city's cathedral. His station was moved to south-eastern Western Australia, to begin ministry in the parishes of York and Yarloop-Pinjara. Joining the Australian Imperial Force (AIF) on the 8th September 1914, he began a military career in the 11th Battalion as Chaplain, 4th Class (Captain).
Having reached the shores of Gallipoli on 25th April 1915, his first act of battle was one of bravery and compassion – directly disobeying orders reserving all available landing spaces for combatants so as to disembark with his men and accompany them into one of the most defining moments of the Australian war. During his station at Gallipoli, he carried out a mission of tending to the needs of both the body and soul – consoling the wounded, burying the dead, and standing in solidarity with the living. He was considered to typify the kind of active and robust priesthood that was highly appreciated in Australia at the time, and had his fair share of close calls. From Gallipoli, he wrote that he had been "shot twice through my overcoat without the skin being touched. I had a book shot out of my hands, the jam tin I was eating out of was shot through". Falling ill in July 1915, he was evacuated and returned to resume his duty a few months later in September – remaining there until the 7th November. His work at Gallipoli – along with his hardy character – earned him widespread appreciation both amongst the troops and the home front, and the Distinguished Service Order for 'gallantry under fire'.
In March 1916, he re-joined the 11th Battalion, and embarked for France in April. This new theatre of war, with its pivotal feature of heavy artillery, completely transformed his experience of battle, and left him staggered: "shells of all calibres, mostly high explosive, simply rain on a small sector of the front…It is appalling, it is diabolical, and it is wonderful how anyone escapes". Remaining in France until 14 November 1917, he became the longest-serving front-line chaplain of any denomination. His experience of wartime service had left him deeply marked by an admiration for Australian soldiers: "the more I knew them the more I loved and admired them…Their bravery has been written in deeds that will live to the end of the world". His performance during his military career both in Gallipoli and the Western Front earned him a promotion to Chaplain 3rd Class (Major).
Leaving for Australia on 16th March 1918, he was greeted with a heroes' welcome – being feted against his wishes upon his arrival in Perth. Settling into normal parish life, he was stationed first at Cottesloe from 1919-32, moving between various Perth parishes from 1932-39, and returning to Cottesloe in 1939 where he remained as parish priest until his death on 28th April 1959. He is buried at the Karrakatta Cemetary in Perth.
JOHN JOSEPH KENNEDY (1881 – 1957)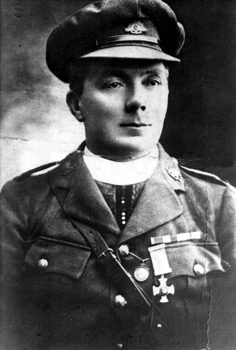 Born on 28 October 1881 in Kerry, Ireland, John Joseph Kennedy was ordained on the 24th June 1904 and volunteered for the Australian mission. First employed as assistant priest in Wangaratta, Victoria, he was later moved to several regional Victorian towns, including Heathcote, Shepparton, and Yarrawonga. He joined the Australian Imperial Force (AIF) on 1st December 1915 as Chaplain 4th Class (Captain), and sailed from Melbourne a few weeks later on the 29th December.
Posted to the 14th Infantry Brigade headquarters in Egypt, he was attached to the 53rd Battalion and quickly developed a close identification with the men of his battalion, though his duties extended to the whole brigade. He departed for France with his battalion in June 1916 and was shocked at the brutality of the Western Front, writing home of "scenes of carnage". The first engagement of his men was the hard-fought battle of Fromelles (19th-20th July 1916). Working with the medical staff in an aid-post during the battle, he was astonished by the bravery and generosity of the wounded men. His work earned him the Distinguished Service Order for 'conspicuous gallantry and devotion to duty' and provided a heroic narrative. He is reported to have carried wounded men from the front trenches to the dressing station under heavy shell-fire for the entirety of the battle, returning repeatedly to the firing line. His wartime experience left him with an aversion to sectarianism and – along with his battalion – a disillusionment with the consequence of that experience, reporting that he "failed to see the meaning of the task allotted to us at Fromelles. It was hopeless from the very outset".
Falling ill in December 1917, he left the 53rd Battalion for the 3rd Training Brigade, returning to Australia in April 1918. His appointment with the AIF was terminated on the 31st of May 1918, upon which he continued to work in regional Victorian parishes until 1936, when he migrated to the United States of America. He died in Augusta, Georgia on 18th February 1957.